This year so far, Scamwatch has received around 230,000 reports with over $225 million in losses.
Have you ever received an email or message which has made you question if you should click the link? Maybe you're worried about your family members who aren't quite as internet savvy as yourself? Or maybe you have been scammed in the past and then had to spend hours trying to remember passwords to all those sites you have direct debits for? What a headache.
More is proud to partner with Scamwatch during Scam Awareness Week and positively contribute to the "let's talk scam" chatter.
We should be talking more about scams as together we can empower one another with knowledge that will help keep money, data, and personal information safe.
Who knows, just one conversation, or even sharing this blog post may help one person protect themselves from unscrupulous fraudsters.
Now, lets talk scams...
Scam emails aka phishing attacks:
In case you don't know, phishing is the fraudulent attempt to steal personal information, credit card and banking details, or passwords, by pretending to be a legitimate organisation. Phishing attacks can often slip past even the most robust spam email &/or human filters, and these days their presentation looks legit!
Fact:
During the COVID-19 pandemic, there has been an increase in phishing attacks such as flubot scams which can look like this: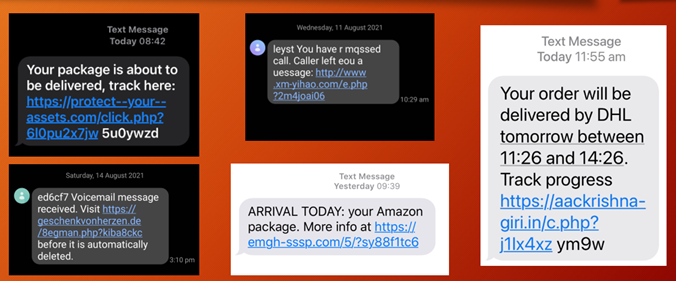 and work like this: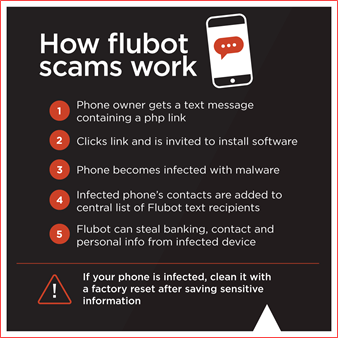 So how can you spot a phishing attack?
Here are a few quick sense checks:
The offer is too good to be true (who gives away $10 million dollars, for example)
Does the email address look funny? (was the email sent to a group instead of one person or are there weird characters in email addresses? )
Are they pressuring you for an immediate response (using language such as: "I messaged you previously", "reply urgently", "about to be confiscated")
Is the verbiage and grammar incorrect?
Is the email asking you to send/share personal information?
Are you expecting an email from the organisation? If not, err on the side of caution.
If in doubt, you can always call the actual company's customer service line to ask whether or not the message is legit or just delete it and get on with your day.
Romance scams: gone are the days where you met someone without the internet having a presence in the courting process. With internet dating unlikely to disappear, it's vital that those on the dating circuit keep their guards up. In fact, this year Scamwatch has received 2,500 reports of dating and romance scams with over $38 million in losses, resulting in more than a broken heart. It gets worse, though... Scamwatch have also seen an increase in the rise of romance baiting where it starts off as a dating and romance scam, but the victim is then lured into an investment scam, meaning more heartache, lost time, and money.
Puppy scams: how many people do you know who have bought a lockdown puppy? The demand for designer puppies has unfortunately resulted in opportunistic thieves advertising and selling puppies online and then ghosting the prospective buyers. The best way to avoid falling victim to this scam is to simply delay any purchases until you can see the dog in person, where possible.
Investment scams are among the highest loss scams reported to Scamwatch. Losses to cryptocurrency investment scams are increasing in fact, there have been 7,200 reports to Scamwatch with over $115 million in losses this year so far. *
Stay alert! Make sure you regularly check your transaction history, and you can identify every transaction fraudsters can be sneaky by debiting smaller amounts at a time. If this happens to you, get in touch with your bank asap.
* data includes the period 1 Jan 2021 3 October 2021
Social media: Did you know that scammers can hack into your Facebook business manager account and set up ads with the aim to fleece money from you and your followers? The best way to prevent this from occurring is to ensure that every single person and partner in your business manager account, and who has admin privileges on your Facebook page, has two-factor authentication (2FA) enabled. Building a brand and followers via social media takes a whole lot of time, but setting up 2FA & ensuring your account is secure doesn't.
Online shopping: The amount of shopping and delivery scams have surged during COVID. Shopping scams involve soliciting money for advertised items that don't actually exist. Generally, they're items that have become more in demand since the pandemic hit such as caravans, or shipping containers intended for use as granny flats or backyard offices.
It's important to keep in mind that you need to be extra vigilant when shopping online.
Read item descriptions carefully, double check product information before you buy and if in doubt than talk to a friend or family member.
So, how do you minimise the risk?
Remember the old sayings 'prevention is better than a cure' and 'stranger danger'? Well, those sayings apply to minimising scam risk.
Don't engage with any sms, email, direct message, phone call or good old fashion knock on your door from someone you don't know especially if they ask you to either click on a random link, provide personal information &/or download any files, its best to err on the side of caution.
While time consuming, it is a wise move to update your passwords regularly, and make them hard to crack which unfortunately means no more password123! Add a 6 month change your passwords reminder into your phone, and its a good idea not to keep your passwords and personal information filed on non-encrypted apps or websites, such as a excel spreadsheet.
If you have an option to add a multi-factor authentication (or MFA), which provides an extra layer of security, then do it! Without MFA, if someone has access to your inbox, they can potentially gain control of any linked online accounts.
Avoid using open Wifi connections. While accessing free Wifi may seem attractive, the fact is that open or public Wifi connections can be a cybercriminals playground! Always access Wifi via a trusted network, a mobile hotspot, or a virtual private network, commonly known as a VPN. A VPN is a software that encrypts all connections, which means that a cybercriminal won't know which websites youre visiting and the credentials you're using.
Install anti-virus software on your devices and keep it up to date.
Check the Scamwatch website for updates on any recent scams making the rounds, and lots useful information to help keep you safe.
What to do if you think you have been scammed?
Report it!
Help is always available.